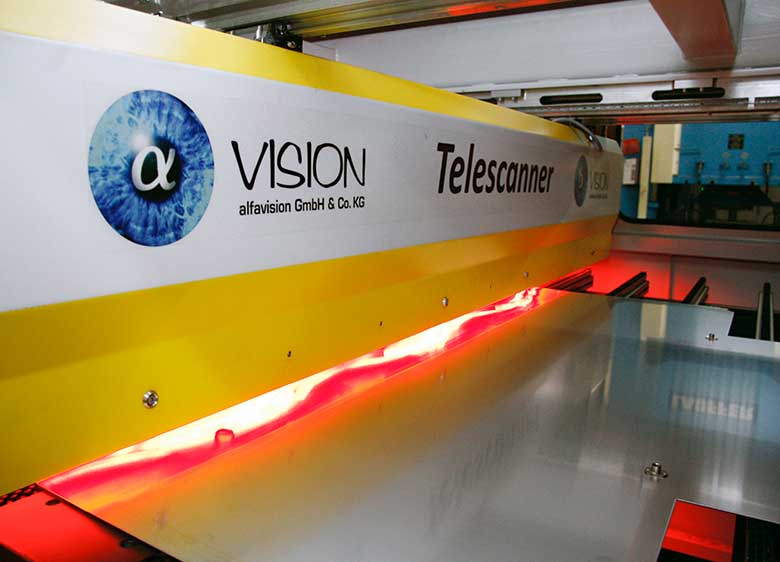 alfavision® Telescanner inline
The alfavision® telescanner inline are robust measuring and testing devices for use in production. The special feature of these telescanners are the telecentric optics, even over very large widths, their high scanning speeds and their various possible uses for measuring and for surface control. The "manual fingernail test" can be automated by using several incident light illuminations in one scan.
Key data alfavision® telescanner inline
Scanners for measuring and surface inspection
High depth of field
up to 2000mm total width of the scan
Measure and test large components in seconds
Measurement settings DIN ISO fine, medium, coarse
Measurement rules can be individually adapted
Measurement tolerance up to 0.05 mm
DXF files optional (reverse engineering)
Measurement with transmitted and reflected light
Like all telescanners from alfavision, the alfavision® telescanner can also be integrated inline directly in the production line or provided as a separate test device. Different component thicknesses are placed and measured without mechanical adjustment. In addition to an extensive basic software package for measuring and testing functions, the alfavision® telescanner inline is also offered adapted to customer-specific requirements.
The alfavision® telescanner inline is connected to an incremental encoder via one of its optically separated IO inputs. Fluctuations in the synchronism of the transport device during the image acquisition are compensated for. This measures the length of the objects to be measured with high resolution.
The alfavision® telescanner inline generally does not require a separate external signal to start the measurement or test, as it automatically detects the presence of objects. The measurement data determined are forwarded to the PLC of the production plant.
Applications alfavision® telescanner inline
The alfavision® telescanner inline is particularly suitable for applications in the metalworking industry for global measurement control. For example, it is used to measure electronic circuit boards, plastics, glass surfaces or technical fabrics.