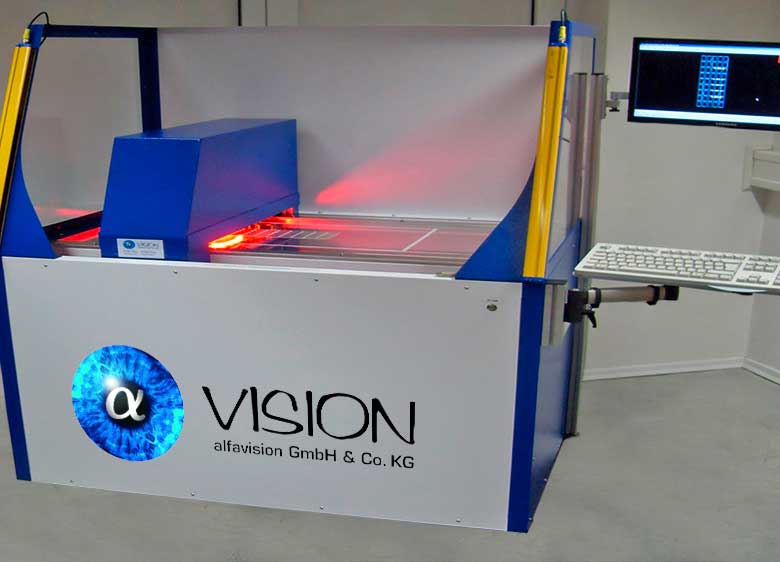 alfavision® measurement scanner
The alfavision® measuring scanners have a modular structure. The advantage is that the width, length and resolution can be quickly adapted to the needs of the customer. The measuring systems designed in this way represent a complete solution for scanning flat components.
Key data of the alfavision® measuring scanner
quick and exact measurement
automated quality control
variable component size
selectable resolution
Robust industrial structure
compact complete solution
inexpensive and flexible
automatic creation of DXF data
competent advice and service
easy handling
Thanks to the high resolution, the outer and inner contours of flat objects can be measured and checked accurately. The measuring object is recorded with parallel lines of sight over the entire test width. The target data of the components are automatically read in via the existing CAD data. The customer can independently enter new test reports through a simple graphical user interface. The control and data evaluation takes place via the built-in PC of the measuring system.
The simple operation and the high data processing rate enable the measurement results to be generated quickly.
Anwendungen alfavision® Mess-Scanner
Der alfavision® Mess-Scanner ist besonders zur schnellen Vermessung oder Kontrolle für Stanzbleche, Leiterplatten, Gewebeprüfung und Druckbildern einsetzbar. Zusätzlich zur maßlichen Kontrolle kann die Oberfläche mit dem Scanner in einem Durchlauf auf Defekte wie Kratzer, Dellen oder Verschmutzungen geprüft werden. Selbst hochreflektierende und spiegelnde Flächen sind mit dem alfavision® Mess-Scanner sehr gut zu prüfen. Wir bieten auch eine Lösung an, wenn wenig Platz zur Verfügung steht und nur mit Auflicht gemessen werden kann oder Sie z. B. eine automatisierte Fingernagelprobe benötigen. Mehr zum alfavision® Mess-Scanner lesen Sie auf unserem
Blog Expertenkreis Schleiftechnik.